I hope everyone stays safe and well in these difficult times.  If you are planning a party for later in the year, I am available for enquiries.  There are no deposits or cancellation fees if details have to be changed. 
Bouncy castles and soft play for parties and events in Southampton area – see Gallery by Location page for equipment photos in your local hall.
No hidden delivery charges for Southampton area – every party is individual, so please call me or email with your requirements.
Janita
Note:   Bouncy Castles are now INDOOR HIRE ONLY 52 weeks of the year.  (If you are a regular customer, please give me a call.)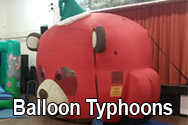 My full range of Fete / Fundraising and Garden Games can now be found on a separate website:  www.feteandpartygameshire.co.uk