Few items for sale as I am trying to cut down on the equipment I hire out – collection only in person from Southampton:-
PINK BOUNCY CASTLE
Arched castle with built in shower cover, suitable for children under 12 years.
PIPA tested until January 2020 – very popular for boys and girls parties.
This is a commercial bouncy castle which is in very good condition.  All my castles are well looked after and are never packed away wet (they don't go out if the weather is poor).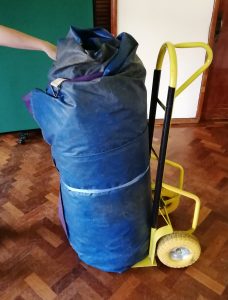 The castle was PIPA tested in January 2020 and has new webbing on the step.  It is in very good condition and is unlikely to need any repairs for a long time.
The castle is made of the heavier material and is very strong.
I charge £65 for the hire of this item, but you could easily hire it out for more.
For sale at £525 (without fan)
Phone to view – 07784 794522
SANTA SUMO SUITS WITH MAT
Adult set of sumo suits in Santa Design.  Both suits are in very good condition with no damage to the fabric.  Complete with hats with attached beards.
The suits are complete with a good quality thick mat in yellow (thicker than the one shown).
Give me a call to arrange viewing – I am not available for couriers.
Get ahead for the Christmas season.
£450 for suits with mat.
YELLOW SOFT PLAY MAT
Photos show shadows from overhanging trees – nice bright yellow mat.
Nice bright yellow thick soft mat for soft play area, or use with bouncy castle or sumo wrestling, etc.
It is not a groundsheet – the main centre part is padded floor covering and probably about 1″ thick – ideal for preschool play.  Very similar to sumo wrestling mat but softer.
12 foot square padded with an extra 13″ around the edge (unpadded) – edging has fixings to secure to the ground. (This part can be folded under if not needed.)  Originally for use within an inflatable barrier as a soft play area.
The mat is in good clean condition, but the underside needs a clean.  Outside edge also could do with a clean if you are going to use it flat  (ie. not folded under).
Call me to view the mat.
For Sale at £100 (cash)